Tue, 30. Mar. 2021   Cloosters, Tobias
Erklärvideo "TeeRex: Sicherheitsscanner für Intel SGX-Enklaven"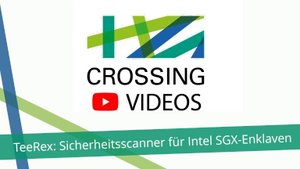 Trusted Exceution Environments automatisch nach Schwachstellen absuchen mit TeeRex.
Das Paper "TeeRex: Discovery and Exploitation of Memory Corruption Vulnerabilities in SGX Enclaves" von Tobias Cloosters, Michael Rodler,und Lucas Davi wurde auf der USENIX Security '20 veröffentlicht.
Über CROSSING ist nun ein Erkärvideo erschienen: https://www.youtube.com/watch?v=2aGDAilYioo
Trusted Execution Environments (TEE) sind besonders abgesicherte Einheiten auf den Hauptprozessoren von Rechnern oder Smartphones. Bisher gab es keine Möglichkeit, TEEs automatisiert auf Schwachstellen zu testen. Daher haben unsere Forscher TeeRex entwickelt.
Dank der Forschung zu Trusted Execution Environments können Schwachstellen entdeckt und behoben werden, bevor sie der Öffentlichkeit - und damit auch potentiellen Angreifern - bekannt werden.
TeeRex gewann den 3. Platz des Deutschen IT-Sicherheitspreis 2020.
Daran arbeiten die Forscherinnen und Forscher der TU Darmstadt und der Universität Duisburg-Essen im Sonderforschungsbereich CROSSING.